"Science is not the end of the story.  It's the beginning, really."  This is the through-line our two guest commentators, Jasmine and Nicole, found for today's lectures in and around Freiburg.  We began with an overview of Freiburg from a sustainable development perspective, given by our guide yesterday at the Innovation Academy, Steffen. Some of the Growth and Structure of Cities majors were particularly struck by his slides about the central train station, which is really constructed as a transportation hub. Regional trains, local trains, tram lines, and bus routes all converge there, but the complex also includes a bike parking building, and the car share garage. We also heard about the ways in which people are trying to teach children about recycling and sustainability, so that it will become ingrained ("and they'll help influence their parents as well," notes Jasmine).
We then hopped on a tram to Vauban, the neighborhood which used to house the French army barracks (until they left in 1992), and has since had a series of rejuvenation projects, aimed at increased sustainability. The Öko-Institut headquarters are in a zero-energy office building, which is part of a complex we'll visit next week that includes many single-family homes and some apartments, as well as a supermarket and other office space.
The Institut was born out of the anti-nuclear protests in the mid-70s, and provided a space for anti-nuclear scientists to gather and publicize research. It "was privately funded at the beginning… it's amazing that they were able to gather so much momentum even though they weren't government funded.  They were able to get so many citizens involved, so much support, and now they have all these contracts [across the EU for private companies and various governments] to do research and projects" explained Nicole.
"When we think about the United States, and especially the climate policy, it's very political and very divisional," she observed, so she asked the Institut's co-founder Professor Doktor Rainer Grieshammer about lobbying done by the Institut or other groups on behalf of the Energiwende (energy transformation) cause.  He shared that there isn't a particular lobby group for these issues, they are just part of the general political conversation. Jasmine's course last year with Prof. Hager about policy in Brazil, China, Germany, and the United States pointed to Chernobyl as a major uniting factor in German politics, which has been echoed by every conversation we've had with experts here in Freiburg.
Nicole has also found that "over the past couple of days we have talked a lot about spreading risk. The forest service doesn't rely on one kind of tree, and a lot of the talks today embrace that idea as well. If the source diminishes, you need to be able to counteract that with something else." Our afternoon meeting, with Andreas Markowsky, founder of the Ökostrom-Gruppe, gave students insight into a distinctly economic approach to the Energiewende: the company Andreas runs coordinates local investment in renewable energy generators. This means that when a wind farm or hydroplant is constructed in a town, individual citizens have the chance to invest financially in the technology, and earn returns based on the energy generation. "It's not just sustainability from an ecological standpoint – it's economic and social too.  It's interdisciplinary!" said Nicole.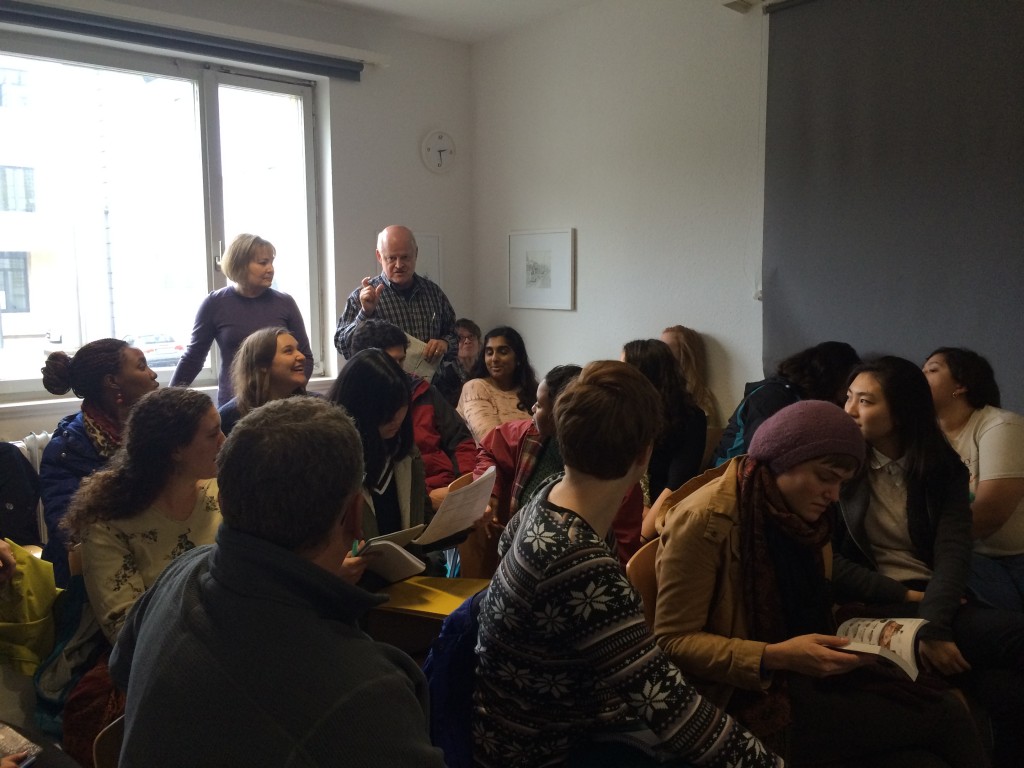 Check in again tomorrow for notes from our visit to a landfill-turned-residential community, and another research facility.
About our guest commentators:
Nicole Hamagami is a senior at Bryn Mawr College. She has been itching to participate in a 360, and was excited to look at the science of climate change from a variety of perspectives. As a Biology major, she learns a lot about scientific absolutes, and has appreciated the opportunities to explore some grey areas. She's also a campus tour guide, and looks forward to sharing new insights on the Sustainability Tours she gives to prospective students.
Jasmine Rangel is a junior Chemistry major at Bryn Mawr College. She has always been interested in the energy side of chemistry, and a middle school teacher got her passionate about nature, but she was excited to learn more about how people react and respond to new technologies, science, and information in general. Jasmine is also a Traditions Mistress, so while we are in Germany, she's in the midst of planning Lantern Night too (November 1 – get your lanterns ready!).